Adventurous holidays, incentives and outdoor training programs in slovenia
The Sočavalley in the north-west of Slovenia is closer by then most of us think. By airplane, this beautifull country is easily reached through the airports of Venice, Trieste and off course the capital of Ljubljana.
Its' situation between the Alps and the Mediterranean Sea, give it a lush and comfortable climate and makes it a true dream for any wild water or outdoor sports fan, whether you are a beginner or a pro.
In the Sočavalley, named by the beautifull, emerald river, you will find comfortable campsites, hospitable hotels in nice and quite villages with a population that in general speak rather good English.
Slovenia: an all-round destination
Slovenia is not very big so while staying in the eldorado of outdoor sports, the Sočavalley, the rest of the country is easily reached. Thus a visit to the Mediterranean Sea, the capital of Ljubljana or many other interesting sites is all possible within a days' ride. Wineries, geographical sites, culture and history; it has it all.
Slovenia itself has enough to offer to spend one or more weeks, but it is also a nice break for a couple of days while going to Croatia or when you visit the northern parts of Italy.
Staying in the Sočavalley
Our base in Slovenia is a wonderfull, awardwinning EKO campsite in the village of Kobarid. Here, you can bring your own tent, caravan or mobilehome or stay in one of the luxurious, chalet-style appartments.
The owner is a true pioneer in the countries tourism industry, and she and here team go through great lenghts to make your holiday a great one to remember.
We also dispose of some nice family hotels and appartments int the village itself.
We know our way around in other parts of the country as well, and we would really like to advise you where to go and where to stay. Please do not hesitate to contact us at 0031 (0)162 438000, or send us an email and we will contact you without any delay.
The packages you'll find here are mere examples of the many possibilities. You can book them as shown, but we can tailormake them also in any combination you like.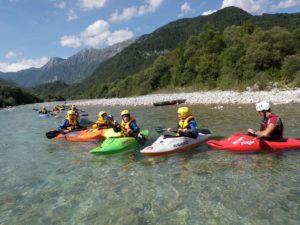 Actieve gezinsvakantie Slovenië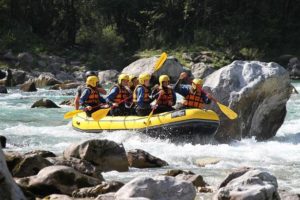 Stoere wildwaterweek Socavallei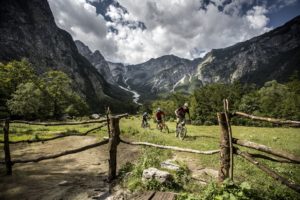 5- daagse mountainbikereis vanuit hotel